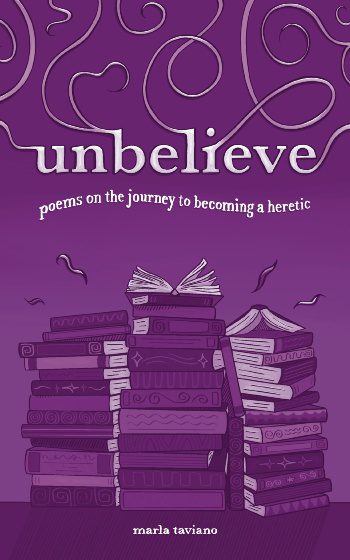 Paperback: $18.95, 9781957687285
eBook: $9.99, 9781957687292
unbelieve
poems on the journey to becoming a heretic
Marla Taviano
"In unbelieve, Marla artfully and bravely gives all of us a front row seat to her own deconstruction while also welcoming us and helping us feel safe in our own wildernesses."
—Matthew Paul Turner, New York Times bestselling author of What Is God Like?
When you start to doubt your once-certain faith, it can feel overwhelming, discouraging, and honestly kind of terrifying. But the very good news is that you're not alone.
In unbelieve: poems on the journey to becoming a heretic, Marla Taviano—author, single mom, and former very-good-Christian-girl who had all the answers—welcomes you into a space where you can let it all out, let it all go, and start heading in brave new directions. And she'll be right there beside you on your journey.
In her past life, Taviano wrote books for Christians that today make her cringe, but with unbelieve she offers a simple poem on each page that will make you say, simply, "hell yeah." Covering biblical literalism, fundamentalist hypocrisies, racism, LGBTQ+ rights, loving the poor, and so much more, Marla helps you fight for creating new boundaries with toxic beliefs and discovering who you were meant to be.
With appendices of amazing book lists, her written apology to Democrats and Jesus, and a bold affirmation of gay marriage, you'll find unbelieve to be a book you return to again and again—whenever you need a friendly companion on the road to heresy and freedom.
Praise for unbelieve
"Marla's book of poetry is exactly the kind of expression that might poetically articulate your own journey."
—David Hayward, NakedPastor, cartoonist and author of Flip It Like This!
"I love Marla's quest to absorb as much as she can about communities that are different from hers—and I am obsessed with her thoughtful book reviews. Unbelieve is her own story about her complicated journey with faith. I highly recommend it!"
—Lisa Ling, journalist and host of CNN's "This Is Life with Lisa Ling"
"In unbelieve, Marla artfully and bravely gives all of us a front row seat to her own deconstruction while also welcoming us and helping us feel safe in our own wildernesses."
—Matthew Paul Turner, New York Times bestselling author of What Is God Like?
"I'm just going to read a few poems a day. That's the lie I told myself when I started reading this poetry book. But I slurped the whole thing right up like a chai latte on a stressful day."
—Amber O'Neal Johnston, author of A Place to Belong
"In unbelieve, Marla gives you permission to ask big questions and wrestle with big truths and not just continue to settle for a safe, status quo faith. Quite simply, unbelieve helps you . . . believe. In a bigger, bolder, and more authentic way."
—Mandy Hale, New York Times bestselling author of Turn Toward the Sun
"One thing we can absolutely all agree on is that leaders in the American church have actively abused her people and have become increasingly antagonistic and isolated. Marla poetically makes the case, through humor and punchlines and sharply devastating rhymes, that westernized Christian theology is to blame. You might disagree. But I hope you would be willing to hear Marla's case."
—J. S. Park, hospital chaplain and author of The Voices We Carry
"These poems resonated as they met me where I am and where I have been. Marla asks the questions that too many have been taught should remain unspoken, inviting us along in her journey through an ever-evolving faith."
—Patricia Taylor, writer and activist
"There are books that bring you comfort, books you return to time and time again, and books that make you feel like you are not alone. Somehow, Marla Taviano accomplished all three of these feats in her collection of narrative poetry, unbelieve."
—Cara Meredith, author of The Color of Life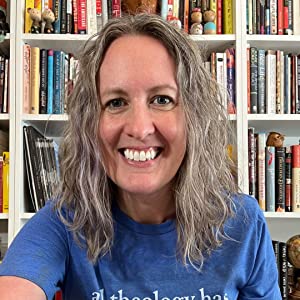 Marla Taviano is into books, love, justice, globes, anti-racism, blue, gray, rainbows, and poems. She reads and writes for a living (especially @whitegirllearning), wears her heart on her t-shirts, and is on a mission/quest/journey to live wholefarted (not a typo). She's the author of of unbelieve: poems on the journey to becoming a heretic. Marla lives in South Carolina with her four freaking awesome kids. Find out more at marlataviano.com.
As an Amazon Associate, Lake Drive Books earns from qualifying purchases. As a Bookshop.org Affiliate (see our Bookshop.org store), we earn from qualifying purchases.