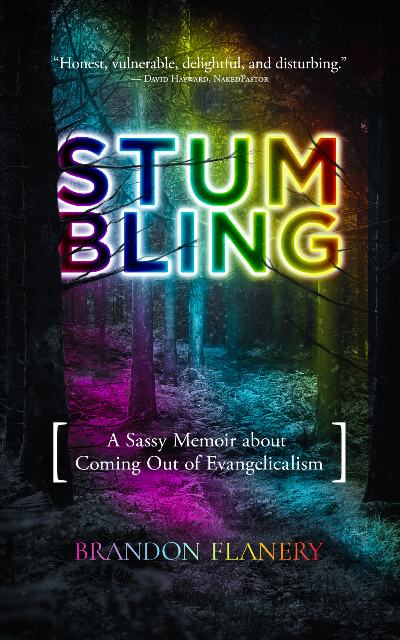 Casewrap Hardcover: $28.00, 9781957687124
eBook: $9.99, 9781957687155
Stumbling
A Sassy Memoir about Coming Out of Evangelicalism
Brandon Flanery
"Honest, vulnerable, delightful and disturbing." —David Hayward, NakedPastor
If you're happily sitting in church on Sundays and contentedly attending Bible study on Thursdays, you'll likely hate this book. However, if you doubt and you're angry, if you're confused and hurting, if Sundays feel weird, this book is for you.
As millions exit the church due to its politics and treatment of LGBTQ people, Brandon Flanery brings us Stumbling: A Sassy Memoir about Coming Out of Evangelicalism, an LGBTQ memoir that gives us a glimpse into why he and others are leaving and shows us the hope he's found on the other side.
Flanery drank deep of the evangelical waters: growing up in a megachurch, working as a missionary and pastor, all while wearing a purity ring and Relient K t-shirt. Flanery gave his life to the church, but everything changed once he came out. Using moving and candid anecdotes, Flanery shares stories of hitchhiking and sex, betrayal and forgiveness, despair and hope, all with a sarcastic-yet-sincere sense of humor that will have you snort laughing about religious trauma. 
Ultimately, Stumbling is a story of rediscovery and forging oneself after Christian deconstruction, inviting you, the reader, to find your own way, a way that's absolutely not perfect but definitely good. Happy stumbling.
Praise for Stumbling
"Pulled by the dialectics of joy and pain, certainties and uncertainties, life and death, first kisses and hookups, this is a tale of forging authenticity in a world that would rather shut it down. Through all his questioning and adventuring, Flanery puts the ending at the beginning, reminding us that it is not about the destination, but about everything we question, discover, and come to believe in the middle. His questions about God, sex, people, and the truth are honest and his heart is bare. For those who feel alone challenging the norms of heterosexist life, this is a must-read."
Isaac Archuleta, LPC, Founder, Chief Executive Officer of iAmClinic, previous Interim Director of Q Christian Fellowship
"It's a rare privilege to be in someone like Brandons' orbit. He's unashamedly himself in real life and that comes through in the memoir. The layers of thoughtful introspection and struggling with the divine is a fresh perspective on growing up gay in conservative Christian spaces. Stumbling will leave readers feeling seen and inspired to do their own self-reflection as they encounter Brandon's own journey regarding spirituality and identity after evangelicalism."
Adam Evers, Co-Founder and CEO of believr and nuFoundations
Stumbling feels like a love letter to every ex-missionary, to everyone who has to leave their fundamentalist spaces for one reason or another, to every queer person wondering what faithfulness looks like. Brandon's storytelling is raw, communicating emotions on the page like a painter on canvas. If you need a companion as you are leaving hard places, this book is for you.
Kevin Miguel Garcia, mystic theologian, spiritual coach, author of Bad Theology Kills and What Makes You Bloom
"Brandon Flanery's memoir is riveting, exhausting, and damning. It is the story of the repeated and predictable spiritual torture inflicted on queer young people by most evangelical churches, of the damages inflicted by superficial theology and corrupt church cultures, and of the way refugees from these communities lack a point of reference outside them to process their thoughts about God, world, and self. This book will be an important contribution to the literature now being produced by evangelical exiles."
David P. Gushee, ethicist, pastor, author of Changing Our Mind
"I haven't read a more honest, vulnerable, and therefore a more delightful and disturbing personal account of a queer believer's struggle with their own self, spirituality, family, friends, the Church, and their God. I am certain Stumbling will help other LGBTQIA+ Christians through their own stumbling, but I also hope it will help those who cause them to stumble to change their heart and minds to a posture of love and therefore affirmation."
David Hayward, NakedPastor, artist and author
"Brandon Flanery's memoir is evocative of a modern-day On the Road, with vignettes full of frenetic energy that carry the reader on a journey both around the world and through the writer's heart. With prose and poetry that is simultaneously hilarious and gut wrenching, Flanery navigates his conflicted feelings toward faith and sexuality while trying to find his place in the world. It's a coming-of-age story that is both familiar and original, and one that will resonate with anyone who has discovered the divine as something so much greater than the stories we've been told."
David and Constantino Khalaf, authors of Modern Kinship: A Queer Guide to Christian Marriage
"With wit and raw tenderness, Brandon Flanery's memoir is offered as an invitation into healing for so many other LGBTQ+ Christians who have walked the path of coming out. Flanery offers permission to doubt, rage, and perhaps even find hope in the midst."
Rachael McClair, author and Co-Pastor of Highlands Church Denver
"Raw, riveting, and healing. Brandon Flanery's Stumbling is an intimate and inspiring look into the Flanery's journey through the rigid and repressive world of evangelical faith towards authenticity and an expansive faith as a queer wanderer. His writing is captivating, his experiences enthralling, and the lessons he shares are truly universal. If you're on a journey through the deconstruction of your religious identity, this book will serve as a much needed companion along the way. Flanery is a wise guide and this book is a true gift."
Brandan Robertson, author of Dry Bones and Holy Wars
"I'm so grateful for Brandon's raw honesty throughout this book. Reading about his spiritual journey has been both encouraging and challenging for me on a number of levels. Brandon's story is powerful and it serves as a helpful guide for those who are wrestling, doubting and growing!"
Dave Runyon, co-author of The Art of Neighboring, Co-Founder of CityUnite
"Read Stumbling as a part of the long-pent-up-release of witness calling the Evangelical Church to repent of its homophobic cruelty, especially to its gay children. Better yet, read it as the confession of a soul unable to shake their experience of the divine, despite that cruelty, and see if it doesn't unveil your own craving—for love, for belonging, for God."
Ken Wilson, author of Letter to My Congregation and Pastor Emeritus of Blue Ocean Church, Ann Arbor
Brandon Flanery is an ex-pastor, ex-missionary, ex-evangelical who writes about the tenuous intersection of faith and sexuality. He's conducted research on the consequences of beliefs and why people are leaving Christianity and is published with The Scribe, Baptist News Global, the University of Colorado, and the Colorado Springs Indy where he won first place with the Society of Professional Journalists. In addition to being an LGBTQ author, he co-founded the LGBTQ Christian dating app—believr—and lives in Atlanta.
As an Amazon Associate, Lake Drive Books earns from qualifying purchases. As a Bookshop.org Affiliate (see our Bookshop.org store), we earn from qualifying purchases.