Help, I'm Dealing with Trauma
Real Talk, Real Encouragement, and Real Healing
Lemuel R. T. Blackett
Foreword by Rev. Dr. Dawn Cherri Snell
Lemuel Blackett reminds us that the human spirit is resilient and capable of healing from trauma's often-visible and hidden mal-effects with help, faith, and love.
Pablo R. Diaz, pastor and former Vice President of Ministries of Guideposts
Every human being, even you, has experienced trauma in some way. Traumatic experiences can distort your perspective, shape how you engage in politics and religion, inform who you choose to marry or your choice of career. But often when we hear advice about overcoming our past, it's filled with ideas that just seem out of reach.
In Help, I'm Dealing with Trauma, pastor Lemuel R.T. Blackett reveals honest, heartbreaking experiences growing up in a struggling family in London and then New York. He witnessed trauma and at times was himself on the brink of self-destruction. He shares his insecurities, disappointments, loss, betrayal, even church hurt, experiences that have left him resistant to letting his guard down. Though a minister, he avoids sugar coating religious jargon and brings you real stories about how he found his way through with prayer, therapy, and simple patience and strength of will, and that you can too.
What does trauma look like, how does it show up in your life, and what do you do about it? Let Lemuel Blackett's hard-won insights help you think through how you handle what's hurting you. Be healed, encouraged, and motivated to be a better you.
Praise for Help, I'm Dealing with Trauma
It is true, we all have at some point in our lives experienced some form of what is called trauma. This book helps us to not only be honest with ourselves, but also be encouraged that there is hope for our traumatic life experiences. Reading this book will give you an assurance that "God is able" to lead you through the dark places, the painful places, the hopeless places, and yes, the angry places of your past—to bring you to a bright place of joy, peace, love, and hope. You will come to know that there is no limit to what God can do!
Rev. Eric C. Carson, Senior Pastor of First Baptist Church, Chillicothe, Ohio
Lemuel Blackett shares with courage and truth his real-life story of personal trauma from growing up in a wounded family to the painful experiences in the marketplace and church. This book will encourage you to find good in the negative, faith in the midst of personal turbulence, and light when your life is dark. Lemuel reminds us that the human spirit is resilient and capable of healing from trauma's often-visible and hidden mal-effects with help, faith, and love.
Pablo R. Diaz, pastor and former Vice President of Ministries of Guideposts
Honest, raw, transparent, and powerful are just a few words to describe Lemuel Blackett's Help, I'm Dealing with Trauma. His journey as recorded here is a must read for those dealing with relational trauma or the effects of childhood trauma. The insight it provides is invaluable for counselors and advocates as well. It offers truth, hope, and inspiration. By following Lemuel's journey, we see there is promise after pain if we don't give up. I highly recommend this book.
Kevin C. Hardy, Pastor of St. Matthews Unison Free Will Baptist Church, New Haven, Connecticut
Tolstoy once stated that everyone thinks of changing the world, but no one thinks of changing himself. In this masterful work on taming his trauma, Lemuel Blackett leads the reader to the point of introspection. You'll leave this work wanting to change what's within so that you can change what's around!
Stephen Thurston, Executive Pastor of Salem Baptist Church, Chicago
In Help, I'm Dealing with Trauma Lemuel Blackett masterfully gives context to
a common cry. He has written a must-read work for anyone struggling with
trauma and its subsequent trials. From funerals to faith, Reverend Blackett invites
the reader to join him on an intimate journey of self-discovery complete
with a roller coaster of emotions and real-life experiences. So, strap in, hold
on, and enjoy the ride!
Tisha Dixon-Williams, Pastor of First Baptist Church of Bridgehampton, New York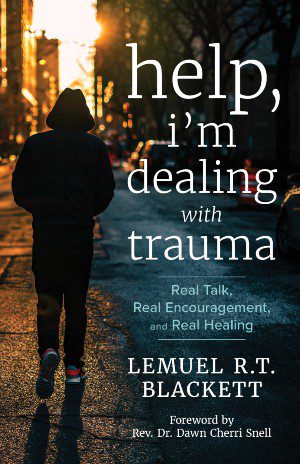 Buy Here
Paperback: $18.95, 9781957687100
eBook: $9.99, 9781957687117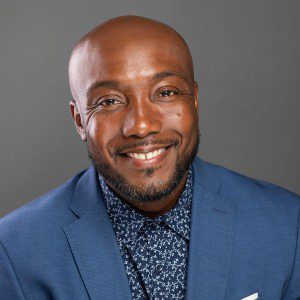 Lemuel R. T. Blackett is writer and ordained local church pastor who has served in ministry for more than twenty years, including as an associate of partnership development at Guideposts' OurPrayer. He's currently Donor and Corporate Relations Manager at Interfaith Community Services. Originally from London, Blackett grew up in Roosevelt, New York. He is a graduate of Eastern Baptist School of Religion and is pursuing an MDiv at Knox Theological Seminary. He lives in San Diego, California with his wife Kimberlee and their three children, Brendan, Sasha, and Noah. Learn more at lemuelblackett.org.
As an Amazon Associate, Lake Drive Books earns from qualifying purchases. As a Bookshop.org Affiliate (see our Bookshop.org store), we earn from qualifying purchases.