Paperback: $16.95, 9781957687308
eBook: $9.99, 9781957687322
Giving Up God
Resurrecting a Spirituality of Love and Wonder
Sarah Henn Hayward
"What stands out the most . . . is [Sarah's] courage to put everything at risk and ask the hard questions." —David Hayward, NakedPastor
Many of us are taught to believe that our only hope is in a supernatural, all-powerful, Christian God. Yet we wonder, is God really real? If we pursue our questions, what might we find?
While the American church seems to be shutting out those who have questions, Sarah Henn Hayward shows us how to discover who we are beyond religion and find a new path forward. After three decades of embarking on mission trips, leading Bible studies, and participating in church leadership teams, Hayward's spiritual identity was overturned when lived experience conflicted directly with her handed-down religion.
From traveling the world and meeting people of different faiths and backgrounds, making friends with amazing people who happened to be queer, to reading widely from books about science, psychology, and social justice, the veil created by concepts like hell, evolution, and Christian exclusivity was lifted in favor of an exploration of a stronger sense of self and a more expansive worldview.
The journey of faith deconstruction is not without grief, but with profound wisdom, Hayward holds fast to a forthright, inspirational honesty that shines on every page. Giving Up God offers a narrative that gives us permission to let go of the past and our fear about the future, and instead train our attention on love and wonder in our present life and resurrect a peace deeper than we ever thought possible.
Praise for Giving Up God
"In Giving Up God, Sarah Henn Hayward moves from a binary world with rigid boundaries to a place much messier and muddier—sometimes literally—with room for big questions with no pre-packaged answers. Hayward's writing is compassionate, kind, and generous, and her work left this progressive Christian filled with wonder, embracing mystery, and grateful for the opportunity to explore the terrain through which she gently guides us."
Cynthia Vacca Davis, author of Intersexion: A Story of Faith, Identity, and Authenticity
"Sarah Hayward's debut gives us a tender yet provocative deconversion testimony. With great compassion and kindness for everyone still embracing faith, she yet raises all her questions and, yes, bold complaints without flinching: Where is God in moments of gross injustice? How could a universe-creator who is both all-powerful and all-good come up with the terribly flawed reality we all know?"
Stephanie Eagleson, writer of "Autopsy of Abuse"
"Even though everyone's path is uniquely theirs, there are similarities common among all deconstruction journeys, and Sarah describes these in a beautiful way. What stands out the most, though, is her courage to put everything at risk and ask the hard questions. The result is she discovers herself and who she may be in the world, as well as a deeper connection to the ones she loves and the universe. If you are deconstructing, questioning your beliefs, and your relationship to religion and the church, read this book for encouragement and validation. But also read it to find a new companion on your spiritual pilgrimage."
David Hayward, aka NakedPastor, author of Flip It Like This!
"This book is something rare—a story about leaving religion that comes off as calm, healthy, and appreciative. It is a nice reminder that 'losing faith,' whatever the negative connotations, is really about personal growth."
Tim Mathis, author of I Hope I Was Wrong about Eternal Damnation
"Sarah set out to write a book that would 'be a source of comfort and camaraderie for anyone who had a deep faith and has left it behind.' In Giving Up God, she did all of that and so much more. Though our experiences are different, Sarah beautifully articulated many of my own struggles and joys on this journey from evangelicalism to atheism."
Nicki Pappas, author of As Familiar as Family: Leaving the Toxic Religion I Was Groomed For and Becoming Egalitarian
"Giving Up God is not a journey on some well-tread path traveled only by intellectual elites. Sarah's story carefully charts the everyday course for what is now a widespread movement. She helps us build a new narrative for our time now and ahead. It's a tribute to honesty and a more expansive notion of what is beautiful and good, both spiritually for the individual but also morally for society."
David Morris, author of Lost Faith and Wandering Souls
"By weaving in references to the scientific and philosophical literature that, piece by piece, helped her to form a more nuanced understanding of the world around her, Hayward brings the reader right along on this genuine, and often uncomfortable, process of discovery. Giving Up God is a bold and worthwhile read."
Julia Soplop, award-winning author of Equus Rising and Information Crisis: How a Better Understanding of Science Can Help Us Face the Greatest Problems of Our Time
"In Giving Up God, Sarah Henn Hayward asks the hard questions about faith—questions that mirror my own—with an integrity and self-awareness to be admired. This is not a new rulebook or manifesto; it is one person's path to finding clarity after climbing through the web of evangelicalism in search of meaning and truth. Hayward expresses both the fear and loss, as well as the wonder and liberation, of life after religion, bringing us along on a journey of hope."
Cait West, author of Rift: A Memoir of Breaking Away from Christian Patriarchy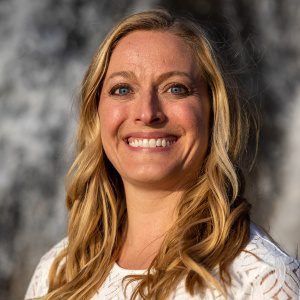 Sarah Henn Hayward is a writer, a voracious reader, a deep thinker, a curious learner, a nature lover, a brave adventurer, an Enneagram 7, a former Christian, a doctor of physical therapy, and a loyal friend. Her blog at sarahhennhayward.com highlights the books of marginalized communities, and she is active on Instagram as @shaywardwrites. Hayward is the author of Sedona and the Sloth: Kid Critter Series #1. She lives in Spokane, Washington with her husband Dan and her two children.
As an Amazon Associate, Lake Drive Books earns from qualifying purchases. As a Bookshop.org Affiliate (see our Bookshop.org store), we earn from qualifying purchases.