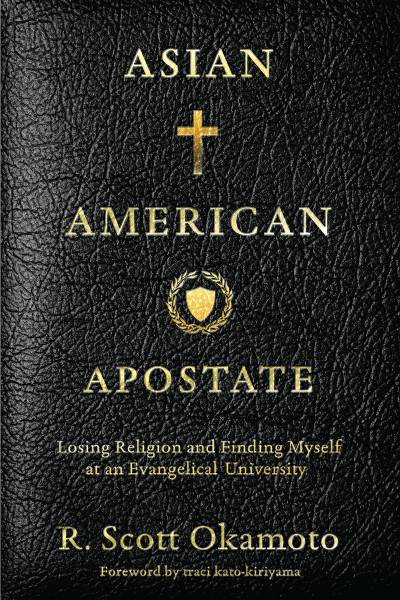 Paperback: $18.95, 9781957687131
Casewrap Hardcover: $26.95, 9781957687247
eBook: $9.99, 9781957687148
Asian American Apostate
Losing Religion and Finding Myself at an Evangelical University
R. Scott Okamoto, Foreword by traci kato-kiriyama
"Asian American Apostate is a stunning contribution to the topic of deconstruction and leaving high-demand religion that for too long has been almost exclusively occupied by White voices."
—Bradley Onishi, host of Straight White American Jesus and author of Preparing for War: The Extremist History of White Christian Nationalism–and What Comes Next
R. Scott Okamoto had no idea that his job as an English teacher at an evangelical Christian college meant facing bigotry as an Asian American and faux intellectualism as a teacher—and what it would mean for his own journey.
Asian American Apostate is a wry and ironic story of leaving religion while teaching at an evangelical university. Okamoto's often-chilling accounts reveal that such schools, where prayer and trite theological debate erupt in any lecture, demonstrate anything but higher education. Stories range from a classroom declaration against interracial marriage because it causes painful pregnancies, to grading a paper entitled, "Why Obama Is a Nazi," and to the times Okamoto, a popular teacher, was disciplined by school officials for keeping standards for writing. Okamoto's personal reporting gives you the inside story of how America's evangelical schools encourage not a life of the mind but White cultural power. More than that, you'll see how Okamoto found clarity about who he was not, and who he was coming to be.
Read along as Okamoto recounts his difficult, unlikely, and ultimately encouraging journey, one that will immerse you in the search for a deeper and more expansive life.
Okamoto's perspective on being Asian American in a white, insular Evangelical environment is fascinating and candidly expressed. —Publishers Weekly
Praise for Asian American Apostate
From the Foreword: "Asian American Apostate is an invitation for society at large to grapple with the assertions on citizenry as dictated by systems and structures of power. This book is lovingly brazen on behalf of those escaping the institution as much as it is a book for the rest of us on the outside looking in. Thank you, R. Scott Okamoto, for being the professor we all desperately need and desire."
traci kato-kiriyama, author of Navigating With(out) Instruments
"With irreverent humor and biting criticism, Scott takes us deep into the world of evangelical academics. His sharp writing style plies us with laughter as he takes direct aim at the entrenched prejudices of these closed spaces. Thank <insert deity of preference> I've crossed paths with this man and his writing!"
Keiko Agena, actress from Gilmore Girls and Prodigal Son
"In this easy-to-follow narrative, Scott outlines this journey, navigating his faith under the oppressive of weight of White supremacy and his discovery of Asian American identity through the poetry to help him find himself again. As a Muslim American woman, I could relate to how a select few extremists in faith can manipulate people away from the critical thinking that all faith deserves. "
Tanzila Ahmed, political strategist, storyteller, and artist
"Scott Okamoto offers an unblinking look into some of the seamier aspects of evangelical higher education with special attention to the implicit and overt forms of bias; and his account explains why so many younger people are rejecting the so-called faith of their parents."
Craig A. Boyd, PhD, Professor of Philosophy and Humanities, St. Louis University
"R. Scott Okamoto lost his evangelical faith, but he found his voice. Incisive, wry, and compassionate, Asian American Apostate speaks to the unspoken racial and social tensions that exist under the surface on White evangelical Christian campuses—not just for students, but for faculty and staff as well. A must read."
Blake Chastain, host of the Exvangelical podcast
"Scott Okamoto uses wit, humor, and creative insight to take his readers on a journey that touches every range of emotion. Asian American Apostate is an engaging story of coming home to yourself and a surprising peek behind the scenes of Christian colleges. Okamoto's writing demonstrates his clear dedication to reducing harm and elevating the voices of those who face marginalization on Christian college campuses and beyond. Don't miss this read!"
Meghan Crozier, The Pursuing Life and co-host of Thereafter
"A deeply resonant chronicle of cultural shifts and personal awakenings, of losing faith and finding your place in the world—brave, brilliant, breathtaking."
Sarah Kuhn, author of the Heroine Complex series
"Scott Okamoto's harrowing and darkly funny account of the Christian evangelical sausage machine is an indictment of turning faith into political power rather than spiritual transformation. Okamoto's voice is necessary for times like these."
Naomi Hirahara, former editor with The Rafu Shimpo newspaper and Mary Higgins Clark Award-winning mystery author of Clark and Division
"Scott Okamoto's book is a triumph for those of us who fought for an education at a religious university. In its affirmation of our experiences of racism, homophobia, and misogyny at these religious universities, Okamoto weaves a narrative that is not only important for personal healing, but great institutional change."
Josephine Jael Jimenez, host of the Speaking in Church podcast
"R. Scott Okamoto's Asian American Apostate, in many ways, is a successor to great Japanese American authors like John Okada and David Mura. Okamoto's memoir is funny, punchy, and touches on a topic that Asian America typically does not cover—our relationship to evangelical Christianity. However, Okamoto's book is more than just a memoir about race, religion, and higher education, it is a story of ultimately staying true to one's convictions."
Naomi Ko, filmmaker, writer, actor
"Scott gifts us not only with his story, but also with the experience of an Asian American man in the US. With perspicuous vulnerability, and considerate humor he shares with us an account we all need to uncomfortably sit with. Asian American Apostate is a needed mirror pointed at very harmful realities lived by racialized people all over classrooms and pews."
Jo Luehmann, host of The Living Room and author of Predatory God (2024)
"Scott Okamoto's Asian American Apostate is an incredibly timely and insightful look into American evangelical educational practices through the lens of a fourth-generation Japanese American teacher at a conservative Christian school. For those who are part of this world, he provides a critique of its comfort with racism, its dogmatic thinking and intolerance, and for those outside, he provides a revealing look at how young evangelicals are educated and why so many find true racial equality and free inquiry abhorrent to their conception of America. Okamoto accomplishes all this with great intelligence, wit, and self-insight, and his writing is as entertaining as it is enlightening."
 David Mura, author of The Stories Whiteness Tells Itself: Racial Myths and Our American Narratives
"As an exvangelical, I am deeply appreciative of Asian American Apostate's take-no-prisoners approach to exposing the toxic nature of American evangelicalism. The American public needs these exposes, but Scott Okamoto's book also offers more. The wit, intimacy, and candor of Okamoto's prose make you feel like you're reading delicious disclosures from an old friend, and his journey of self-discovery provides readers with much needed inspiration, hope, and empowerment."
Chrissy Stroop, Senior Correspondent, Religion Dispatches and co-editor of Empty the Pews: Stories of Leaving the Church
"Scott's vulnerable and laugh-out-loud stories give us an insider's peek at the ironies and absurdities of American evangelical culture. Asian American Apostate is a must-read for anyone who cares about the important intersection of race and faith, and those who yearn to understand how our extreme culture wars have come to pass."
Jenny Yang, comedian and actor in The Brothers Sun
R. Scott Okamoto is a writer, musician, and podcaster. A fourth generation Japanese American (Yonsei), Okamoto holds an M.A. in writing, and much of his professional life involved teaching university level English. He is the host of the series-based podcast Chapel Probation (Dauntless Media Collective). Okamoto is an avid fisher, GenX guitar player, poet, and participant in the Asian American artist community in Southern California, where he lives with his wife and three kids. Find out more at rscottokamoto.com.
As an Amazon Associate, Lake Drive Books earns from qualifying purchases. As a Bookshop.org Affiliate (see our Bookshop.org store), we earn from qualifying purchases.